Invoice 360 Enterprise - Invoice Cloud on your Windows Desktop

Invoice 360 Enterprise is an invoice system that consists of an extremely easy to use invoice cloud server on the Windows Desktop and Invoice 360 app (Microsoft Store) that syncs data with the server. The invoice cloud server on the Windows Desktop ensures privacy of your business transactions and enables you to save on monthly cloud subscription cost.



Multi-User Syncing with NO SUBSCRIPTION COST!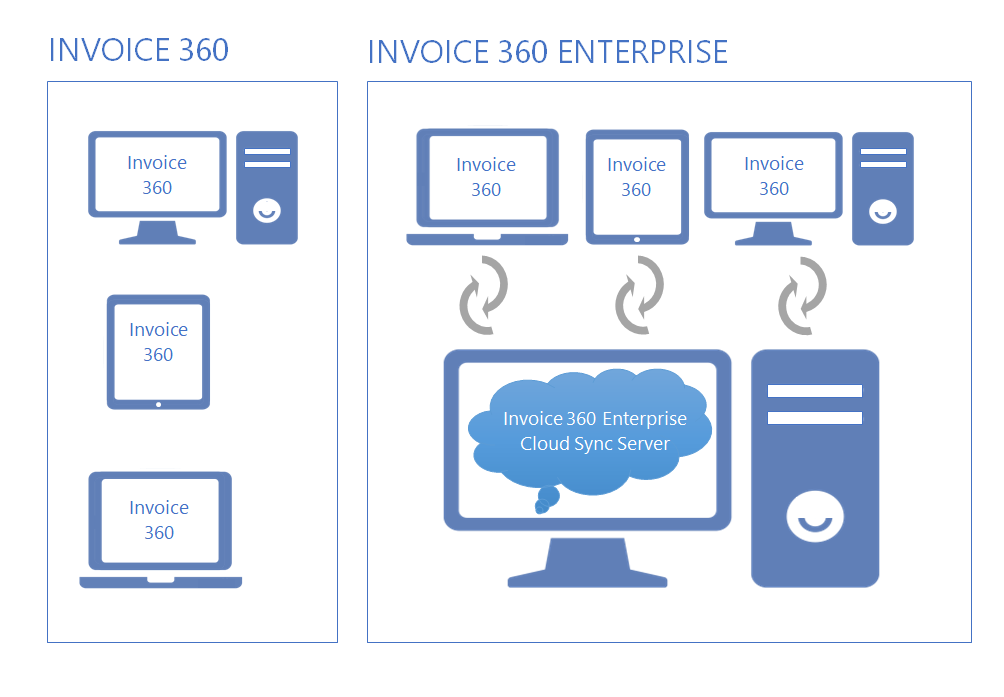 The Invoice 360 app, once synced with cloud server, is available for use even when the cloud is unavailable. This means you have business continuity and are resilient to network failures. Invoice 360 is great for people on-the-go. For example, a salesperson can bring the app to meet customers, invoice them and then go back to office to sync the info to cloud.


What some of our users are saying?
I like that it is desktop-based software. I have control over all settings. Easy working with it. I like the clean simple design.

GVC Digital Ltd (Chenko Kurtev)

I love this. I just downloaded it and am using it for my home crafts. It is a great product!

Dream Weaver Designs (Brenda Donals)

Have looked at a number of invoicing packages and this package looks most promising. Sufficient space is provided for comprehensive goods descriptions and for addresses.

ModelManiaCC (John Shorten)

Simple and intuitive to use. Pretty cool interface design with all required elements and information needed to control the invoices. The templates are elegant and nice, showing professionalism.

(Ramon Rodriguez)

I enjoy the ease and simplicity of the app. I use it to keep track of all my customer information and as well as my paid unpaid info.

General Maintenance Property Managment (Mitchell Bolognani)

Amazing look, even more impressive response to users varied environmental requirements and at such an early stage/unique and flexible options. A cool project. nice job.

(Gordon Goodwin)

The app is user friendly to use.

(Carmen Lam)

....this software is the best out there on the market!

Rip Guard Security Service (Petrus Nel)

We are initially intrigued by Invoice 360's ability to build your own invoice template to specific needs.

Georgia Department of Transportation (Leslie Peterson)

This is a fabulous application, does exactly what I want, must for small business owner.

Electrical Contractor (Hentie van Niekerk)

I like the simplicity and easy use.

(Radim Vetchy)

I like that your program is very easy to setup and start making invoices. Other apps require you to create a user account before you can even try the software. One thing that would be nice is an easy way to download all services or products as an xml file that you can sort by customer.

(Brett Young)

This is really a nice software. I am really impressed.

(Arif Ahmed Nowfel)

Clean and simple to use.

Bikaugh (Theodore Cottle)